JCM Triton Children's Wheelchair Seating
High performance seating for complex needs.
JCM Triton Children's Wheelchair Seating
High performance seating for complex needs.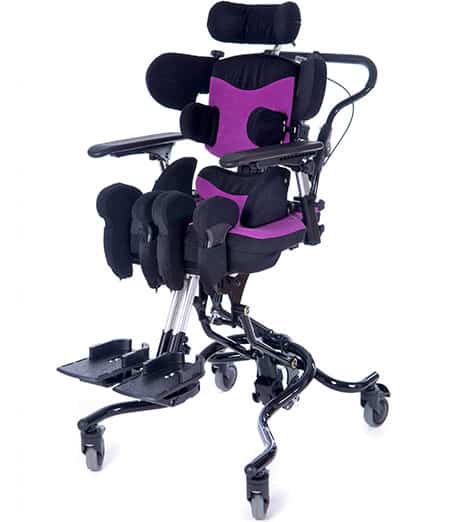 Created specifically for extensive or complex requirements, the JCM Triton modular system delivers optimal seating for children. The design and functionality of the system helps children achieve greater independence and access to activities as well as supporting their clinical needs.
The split seat which comes as standard, supports any leg length discrepancy. Optional dynamic components allow children with powerful extensor patterns to maintain their optimum seating position.
Thanks to the modular design of the system it can be reconfigured and adjusted, allowing it to grow and adapt with the user.
Click an icon to download.
| | |
| --- | --- |
| Seat Width: | Size 0: 260mm Size 1: 315mm Size 2: 395mm Size 2L: 395mm Size 3: 475mm |
| Seat Depth: | Size 0: 150 – 275mm Size 1: 200 – 350mm Size 2: 300 – 450mm Size 2L: 415 – 565mm Size 3: 415 – 565mm |
| Back height: | Size 0: 290 – 375mm Size 1: 300 – 440mm Size 2: 390 – 560mm Size 2L: 480 – 680mm Size 3: 480 – 680mm |
| Back Recline: | Sizes 0, 1, 2 & 3: -5 to 40 degrees. Size 2L: -5 to 25 degrees |
| Seat Height: | 420 – 810mm |
| Seat Tilt: | -15 to 25 degrees |
| Max. User Weight: | Size 0: 41kg (compact base) 46kg Size 1: 60kg Size 2: 60kg Size 2L: 80kg Size 3: 80kg |
| Total Weight: | Size 0: 11kg Size 1: 14.5kg Size 2: 19.1kg Size 2L: 19.1kg Size 3: 22.5kg |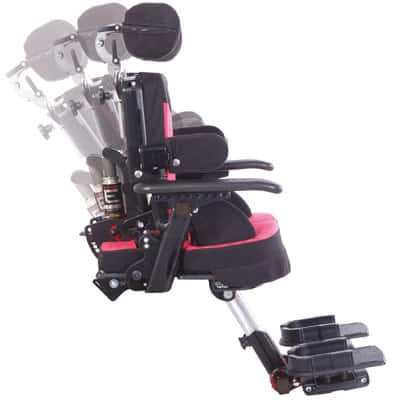 Adjustable Backrest and Footrests.
Superior dynamics is optional on both the back and footplate. The unique dynamic back controls the resistance the user feels as they extend in the chair. Unlike the spring action commonly used on chairs, this air pressure controlled backrest moves with the user rather than pushing them forward as they relax.
The dynamic option in the footplate allows it to move slightly in any direction, improving sensory experience whilst creating a more robust footprint for heavy users, helping to ensure their position is maintained and increasing product life.
Children's Wheelchair Modular Seating.
JCM Triton seating is highly adjustable and can be customised to your child's exact needs. The system includes a wealth of features to support your child's clinical needs and independence. A multi directional sacral pad helps to accommodate rotation in the hips. Each individual leg rest can be adjusted, independently which allows for uni-lateral positioning and back angle adjustment.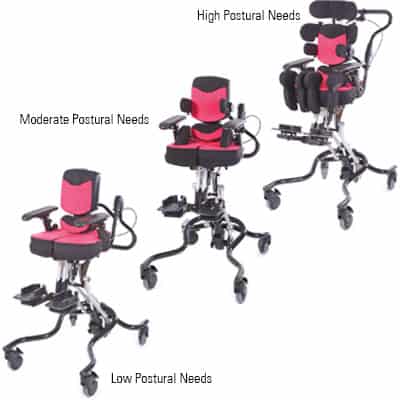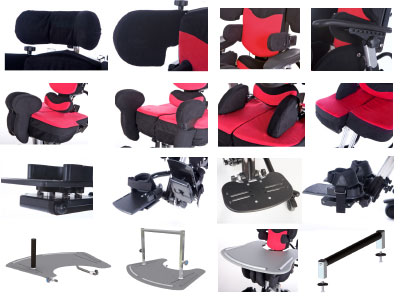 JCM Triton Seating Accessories.
The wide range of accessories available for Triton seating can be added or removed easily.  This allows you to custom build each Triton based on the individual size and specification. Accessories available include multi adjustable headrest, dynamic footplate, ankle huggers, activity frame and many more. The Triton is also available in a wide selection of upholstery colours, allowing the child to choose their favourite. Machine washable upholstery is also available.
Find out more about the JCM Triton Seating System.
Use our contact form for your specific questions or to arrange an at-home consultation.
Why choose us?
We specialise in children's wheelchairs and understand how to help your child feel comfortable and confident in their wheelchair. From making assessments relaxed and fun to helping make sure the wheelchair will adapt over time, our experts can offer guidance and advice whenever you need it.
Funding for children's wheelchairs.
In most cases we are able to help you secure funding towards a child's wheelchair. Unlike other dealerships we do not sign post you to other organisations, we do the work for you.