When it comes to powerchairs for children and teenagers it's vital you choose a chair that can change and adapt as they grow. It's important to balance the robustness needed to take on every day life with a light-weight easy to use solution. The products we have hand-selected do just that.
Don't see what you're looking for? This is just a small selection of our paediatric powerchairs. If you'd like something different please get in touch.
Powerchair Customisation.
We understand that children and teenagers don't want to feel stuck in a product that doesn't show their style. So we offer a whole host of customisation options to help create something especially for them. From bright upholstery (with easy-clean options) to colourful covers with your favourite team or characters. Whatever your child is into we can make sure their wheelchair is into it too.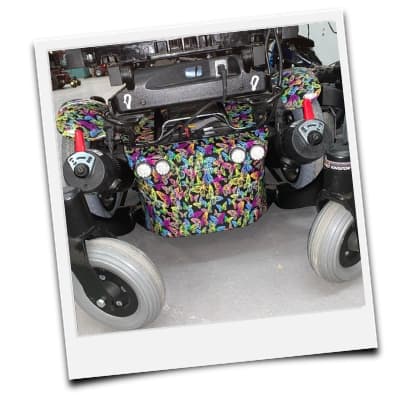 Want more information about paediatric powerchairs?
Our team is ready to answer your questions. Please fill in the contact form and we'll be in touch.
Who do we work with?
We work with private clients, NHS referrals, occupational therapists and physiotherapists. Our product range includes manual wheelchairs, powered wheelchairs, seating, paediatric wheelchairs and more. Don't see what you're looking for? Just ask!