The JAY Zip backrest was designed specially to meet a paediatric client's unique needs.
It is an ultra lightweight, anti-microbial backrest that features X-static® and Aquaguard™ cover technologies as well as adjustable, one-step release hardware to accommodate a wide range of mounting locations and user requirements.
Click an icon to download.
| | |
| --- | --- |
| Contour: | 1 – 2.5″ (25mm -65mm) / 1 – 2.5″ (2.5cm -6.5 cm) |
| Width: | 8 – 14″ (205mm – 355mm) / 8 – 14″ (20.5cm – 35.5 cm) |
| Height: | Short: 6″ Medium: 8″ Tall: 10″ Extra Tall: 12″ (15 / 20 / 25 / 30 cm) |
| Cover Type: | X-static® silver thread stretch |
| Max. User Weight: | 75 kg (11.8 stone) |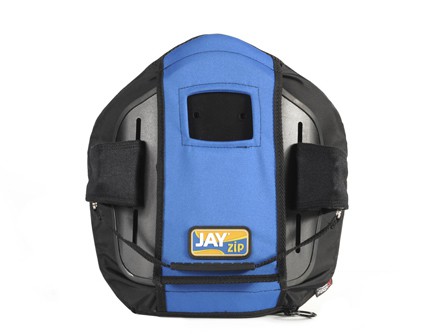 Versatile and easy to adjust for growing children.
Easy to use, one step release makes adjusting the Jay Zip Wheelchair Back easy. Adjust with just a single tool, which is also provided. 
Fits on a wide range of tubing: 1.9cm (0.7") with inserts; 2.2 – 2.3cm (0.8 – 0.9") with inserts or 2.5cm (1") without insert.
Anti-microbial, hygienic covers.
Life gets messy when it comes to children! So the Jay Zip Wheelchair Back includes lots of features to make keeping it clean easy.
Outer Cover
Machine washable and quick to dry
Silver impregnated X-static® stretch fabric naturally inhibits microbial growth
Extra layer of microclimatic spacer fabric for comfort
Safe non-toxic material
Inner Cover
Easy to wipe off
Aquaguard™ zipper resists moisture
Anti-wicking seam thread protects foam base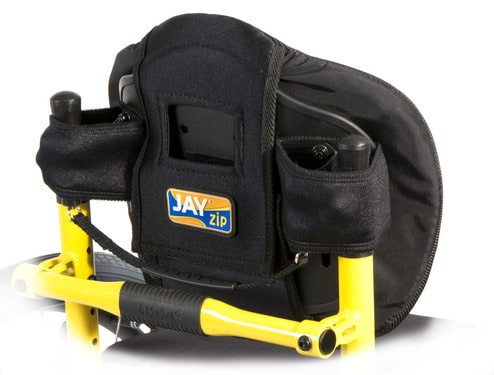 Learn more about the Jay Zip Wheelchair Back.
To find out more or to request a home demonstration please use our contact form.
Funding available for ages 0 to 21.
Our in-house funding team can help you access funding support for wheelchairs, powerchairs and seating. Our relationships with funding providers and our expert knowledge on the application process mean we can often secure support even if you've been turned down before. We handle all of the paperwork leaving you free to focus on what really matters.