Client Testimonials
Don't just take our word for it!
We understand it can be nerve wracking to take a chance on someone new.
Here is a small selection of comments from our previous clients, on how they found working with us.
"The service our son has received from Motus Medical has been 1st class. They are very helpful and always there at the end of the phone.
The team there put our sons needs at the centre of everything they do. They made us and our son feel at ease. They even liaised with our son's school.
We had some initial ideas about the adaptations we might need, but the recommendations they provided surpassed what we thought was possible.
They bought along a range of different options for our son to try out and had great product knowledge."
"Motus Medical have been brilliant to work with. They provided our daughter's latest powerchair and looked at everything she needed.
The NHS weren't able to provide the complex, tilt and raise seating we needed but the team at Motus Medical could.
During the assessment process they included us, our physiotherapist and our occupational therapist to get everyone's input. This meant the powerchair we got is perfect for our daughter.
Motus Medical are professional and great to work with – I would highly recommend them."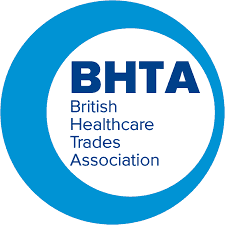 We are proud members of the British Healthcare Trades Association, the UK's oldest and largest healthcare body.
We adhere to their Code of Practise which has been granted full Office of Fair Trading approval and is overseen by the Chartered Trading Standards Institute.