Quickie Q500 M
Superb manoeuvrability, outstanding outdoor performance.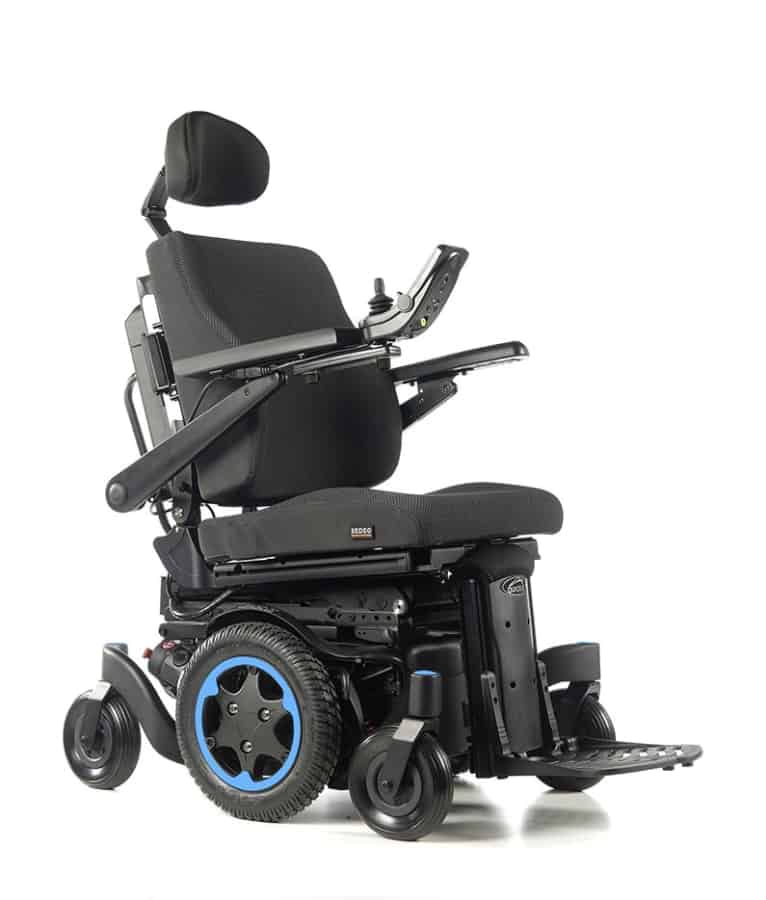 The new Quickie Q500 M balances superb indoor manoeuvrability with outstanding outdoor performance.
This mid-wheel drive wheelchair enjoy a smooth and stable ride, even over rough terrain, with Quickie's patented all-wheel suspension – six independently suspended wheels absorb all those bumps.
Quickie's anti-pitch technology eliminates pitching on slopes. With all your weight located directly above the drive wheel to maximise traction you've never been in a safer driving position.
Personalise your Quickie Q500 M with a selection of 7 striking colours for an expressive, individual look.
Click an icon to download.
| | |
| --- | --- |
| Seat Width | 38 to 56cm |
| Seat Depth | 40 to 56cm |
| Overall Width | 61 to 62cm |
| Overall Length | 128cm |
| Seat Height | 41.5 to 49cm |
| Seat Depth | 40 to 56cm |
| Backrest Height | 44 to 56cm |
| Speed | 6kph / 8kph (standard), 10kph / 13kph (optional) |
| Battery Size | 60Ah or 80Ah (see options) |
| Max. Safe Slope | 8° |
| Max Kerb Climb | 10cm |
| Electronics | VR2, R-net controller; lights & indicators |
| User Weight | Maximum 160kg |
Connect via your Q500 M wheelchair.
Seamlessly take control of your environment using the integrated Infra Red functionality. Control your TV, docking stations and other home entertainment systems easily via your joystick.
Bluetooth & IDrive.
Control your phone, computer, tablet and any other Bluetooth and i-devices with this useful optional extra. Connect and control up to four devices.
Quickie Patented Assignable Buttons.
Change the function on any button on your joystick to any command you desire, thanks to Quickies patented assignable buttons. You can also assign a second (long press) function to buttons, for quicker, simpler and smoother access to commonly used functions without having to use your joystick.
Test drive the Quickie Q500M.
For a home consultation about the Q500M, please fill out this form.
Who do we work with?
Motus Medical partner with lots of organisations as well as private clients. We can help with NHS cases, physiotherapist referrals, and occupational therapy referrals. We also work with a number of charities and disability funds, both in providing wheelchairs and referring clients in need of funding.
There for the life of the chair.
Take advantage of our wheelchair maintenance, service and repair packages to help keep your wheelchair on the road.