Ottobock Juvo B4
Compact and robust rearwheel drive.
Ottobock Juvo B4
Compact and robust rearwheel drive.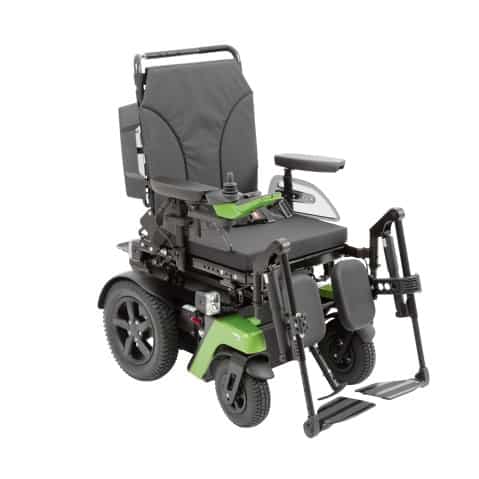 The Juvo B4 with rear-wheel drive offers enhanced safety and comfortable damping characteristics for outdoor use. It is also compact and manoeuvrable indoors. Permanent drive wheel suspension compensates for uneven surfaces and the wheelchair's small outside dimension makes it easier to drive through narrow doorways and navigate in confined spaces.
Like all models in the Juvo product line, the B4 features a modular design and offers a high level of flexibility. The available options and features for the mobility base, seating unit and control device result in a modern and customised fitting. High-quality components such as the variably adjustable seat (VAS) or the TEN° control device can also be selected.
Click an icon to download.
| | |
| --- | --- |
| Seat Width | 34cm to 56cm |
| Seat Depth | 34cm to 58cm |
| Overall Width | 58.5 to 59.5cm |
| Max Speed | 6/7.2/10 km/h |
| Battery Size | 53Ah / 62Ah / 63Ah / 74Ah |
| Max Range | 35km – 45km |
| Turning radius | 800mm |
| Kerb Climb | 50, 85 or 90mm |
| User Weight | 160kg |
| Colours | White, Black, Sparkle Orange, Candy Red, Sparkle Granny Smith (green) / Marine Blue |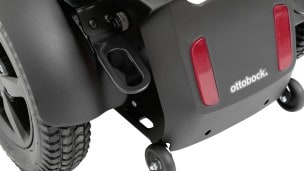 Anti-tipper rollers.
Integrated anti-tipper rollers ensure enhanced safety and protect against damage when driving backward.
Drive wheel suspension.
The Ottobock Juvo B4 features permanent drive wheel suspension which compensates for uneven surfaces and ensures enhanced safety. This can be further optimised with an additional front suspension.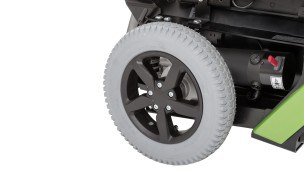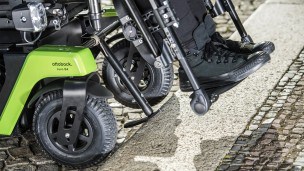 Kerb climbing assist.
This option also makes it possible to cross higher obstacles such as kerbs. The kerb climbing assist is mounted at the front in the centre, and is ready to use at any time while driving. When getting in and out, the lever can be engaged at the rear to provide more space for the transfer.
Power seat functions.
A seat tilt function up to 45° ensures the best possible pressure redistribution and position changes at any time. Back support angle adjustment can play an important role in breathing and care. A 35 cm seat height lift provides appropriate support to compensate for height differences during transfers or in other everyday situations, and for communication at eye level.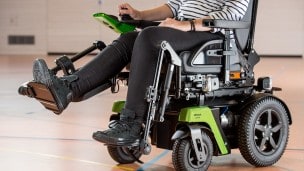 Find out if the Ottobock Juvo B4 Powerchair is right for you.
To arrange an at home consultation please complete our contact form. Your local specialist will be in touch soon.
Why choose Motus Medical?
We specialise in offering powerchairs which are tailored to your specific clinical needs, lifestyle and taste. Our local specialists have a wealth of experience in helping clients find the best technology available. Our close relationships with industry leading manufacturers allow us to specific the ideal option without being tied in to selling just one solution.