Quickie Attitude Hybrid Handbike
Combine manual cycling with a powered option.
Quickie Attitude Hybrid Handbike
Combine manual cycling with a powered option.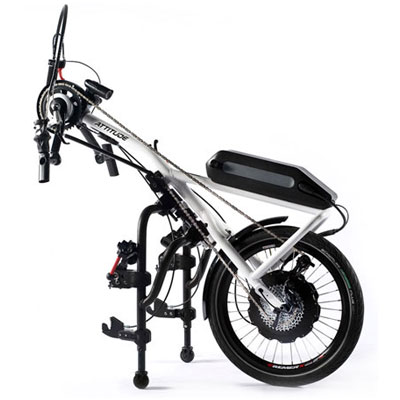 It's important to always have options. With the Quickie Attitude Hybrid Wheelchair Handbike you can experience the best of both worlds. Combine all the health benefits of manual cycling with the reliability of powered propulsion when you need it.
Helping to reduce fatigue, the powered motor can be engaged whenever you encounter a tricky hill-climb or just to provide you with that little extra speed when you want it. The Quickie Attitude Hybrid is the versatile handbike that gives you the freedom to choose.
Click the icon to download.
| | |
| --- | --- |
| Max. User Weight: | 100 kg (16 stone) |
| Front Frame Width: | 260mm – 460mm (26cm – 46cm) |
| Weight of Parts on Wheelchair: | 170 g |
| Total Weight: | 14,5 kg |
| Front Wheel Size: | 20" |
| Gearing Shifters: | Trigger / Grip shift |
| Gearing Speeds: | 8 & 30 |
| V-Crank Width: | 470 mm (47cm) |
| Crank Length: | 170 mm ( 17cm) |
| Brake: | Disc (160 mm) – (16cm) |
| Colours: | 31 |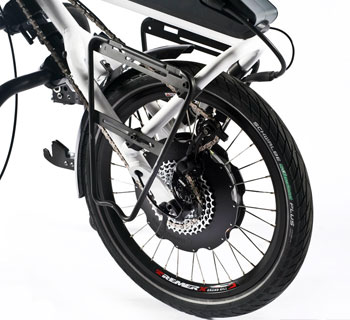 Store saddle bags – take what you need.
As the Attitude Hybrid hand bike gives you that extra power to go further, you may want to take some extra items along for the ride. That's why the Attitude hand bike series comes with a low rider carrier that can be used to store any available standard saddle bags.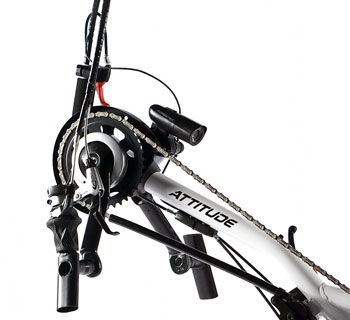 Easier movement with the Ergonomic V-Crank.
As you'll be spending a lot of time behind your Attitude Power hand bike, we've ensured that the handle position is ergonomically designed to prevent contact with your body – particularly when manoeuvring around corners.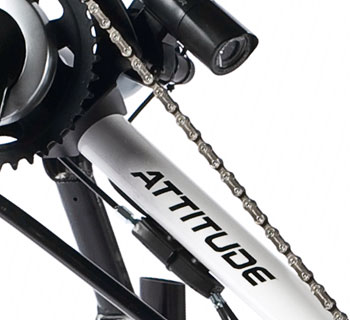 Wide range of colours.
Ultra lightweight to match the performance you'd expect from a Quickie wheelchair, sleek design and 30 head turning colours to match your existing wheelchair or create a look that's truly individual. Hit the streets in style with Quickie Attitude.
Simple mounting hardware.
Say no to heavy mounting hardware that reduces your every day performance. Undock in seconds and roll away with only two lightweight pins attached to your wheelchair. So whether you're riding with an attitude hand bike or your everyday wheelchair you're experiencing the very best lightweight performance.
Have you got the right attitude for the Quickie Attitude Hybrid Handbike?
There's only one way to know if the Quickie Attitude is right for you – try it! 
Our handbike specialists can bring your chosen model to a home demonstration. You'll get to try out attaching it to your wheelchair and take it for a spin. 
No pushy sales.
Our home demonstrations are strictly no pressure. We understand you want the time and space to find out what's right for you. Our experienced specialists can answer all your questions and offer helpful advice. Then we leave the decision to you.