ROHO Single Compartment Cushion
Available in Low, Mid and High Profile options.
ROHO Single Compartment Cushion
Available in Low, Mid and High Profile options.
The Permobil ROHO cushion comes in low, mid and high profile options. It offers an optimal environment for individuals with skin and, or soft tissue integrity issues.
The cellular design and the soft pliable material allow the individual to be immersed into the cushion for maximum pressure redistribution. At the same time friction and shear is reduced. The simple adjustment allows the cushions to fit the shape of the individual, minimising tissue deformation and maximising blood flow.
Click an icon to download.
| | |
| --- | --- |
| Cushion Height | Low: 5.5cm / Mid: 8.5cm / High: 10.5cm |
| Cushion Width | Low: 29 to 59.5cm / Mid: 33.5 to 50.5cm / High: 29 to 63.5cm |
| Weight | Low: 2.5lb / Mid: 3lb / High: 3.25lb |
| Warranty | Cushion: 24 months / Cover: 6 months |
| Construction | flame-resistant, black neoprene (not made with natural rubber latex) |
| Cleaning | Cushion: soap and water / Cover: machine washable |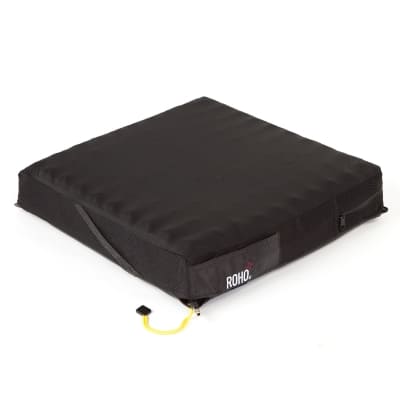 Adjustable seating support for injuries and pressure.
The Permobil ROHO Cushion is the ideal solution for people who have a history of skin or soft tissue breakdown. It can also be used for people with any category or stage of pressure injury (including deep tissue injury), skin grafts, and myocutaneous flap surgery.
All postural adjustments are made while the user is seated. This helps eliminate the need for transfer on and off the chair during the evaluation process and can improve adjustment feedback.
Skin Protection Cushion.
Based on forty years of research and client experience, patented ROHO DRY FLOATATION® Technology matches and tracks the shape of the user. This innovation helps facilitate blood flow and is industry leading in it's performance.
Whichever profile option you choose, the cushion is adjustable to the individual's shape and weight. The Cushion is also adjustable to changes in an individual's position over time.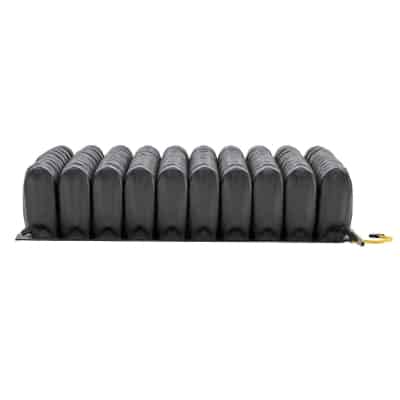 Experience the Permobil ROHO Single Compartment Cushion.
To find out more or to try this cushion please use our contact form. Your local specialist will be in touch to discuss your needs.
Why choose us for wheelchair seating & cushions?
We offer thorough assessments to understand your needs and requirements. Because we work with all the industry's leading manufacturers we are free to recommend the best seating solutions for you. And we're always on the look out the for the latest innovations to offer the best products available.