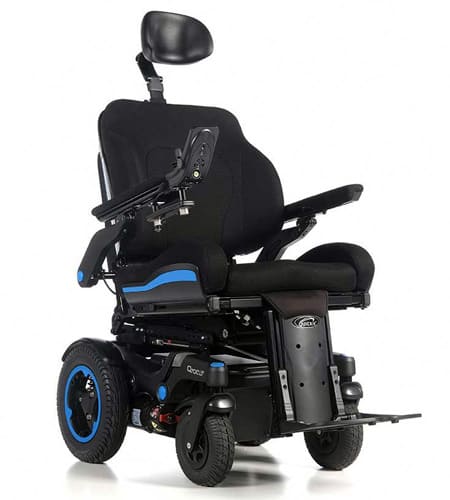 Quickie Q700 R Sedeo Ergo
The Ultimate Rear-Wheel Drive Experience!
Discover the ultimate driving experience with the striking Quickie Q700 R Sedeo Ergo, the high-performance rear-wheel drive power wheelchair.
Innovative Spirit Level technology and all-round suspension ensures optimal comfort on all four wheels. It can climb kerbs of up to 100 mm with a kerb climber or 80mm without it.
Enjoy comfort as standard with the amazing Sedeo Ergo, the biomechanical seating system that mirrors your body's natural position for an ideal seated position at all times, even during transitions!
Plus, stay connected with the world around you with a selection of easy-to-use controls, personalise your drive with Quickie's patented assignable buttons and 6 seated memory positions.
For more information call us on 0800 799 9810 or submit the form at the bottom of the page.
| | |
| --- | --- |
| Seat Width | 40 to 56cm |
| Seat Depth | 40 to 56cm |
| Overall Width | 64cm |
| Overall Length | 118 to 137cm (max) |
| Seat Height | 43 to 48 cm |
| Seat Depth | 40 to 56cm |
| Backrest Height | 51cm to 61cm |
| Speed | 6kph / 8kph (standard), 10kph / 13kph (optional) |
| Battery Size | 60Ah or 80Ah (see options) |
| Max. Safe Slope | 10° |
| Max Kerb Climb | 10cm with Kerb Climber / 8cm Without |
| Electronics | R-net controller; lights & indicators |
| User Weight | Maximum 160kg |
| Colours | Red, blue, green, orange, white and black |
Media and Downloads
Images, videos and downloads for the Quickie Q700 F Sedeo Ergo
Contact us today
If you're interested in the Quickie Q700 F Sedeo Ergo then please fill out this form and a local specialist with get in contact with you shortly.
Where do we cover?
Motus Medical is a national company, meaning we cover all parts of the UK. Our territory is split into North, Mid and South areas, each with a dedicated wheelchair and seating specialist.
What other products do we do?
Motus Medical specialise is manual and powered wheelchairs. We're also experienced with bespoke seating and patient moving solutions, such as the Jay Cushion and Sunlift hoist ranges.
Who do you sell to?
Motus Medical are proud to work with all types of clients – including private clients, the NHS, occupational therapist groups, charities and disability funds.