Ki Mobility Rogue Rigid Wheelchair
Resist conformity. Go Rogue.
Ki Mobility Rogue Rigid Wheelchair
Resist conformity. Go Rogue.
The Ki Mobility Rogue experience introduces you to state-of-the-art design innovation. This high-tech wheelchair offers users a high level of responsiveness and rigidity.
You will be riveted by the level of responsiveness and precision handling felt with every turn, with every push. Quality construction and finite adjustment ensures that it can fit your needs and ambitions.
At 10.6lbs the Ki Mobility Rogue moves with you around every corner and across every street with minimal effort.
Click an icon to download.
| | |
| --- | --- |
| Seat Width | 30 to 51cm |
| Seat Depth | 36 to 51cm |
| Front Seat Height | 34 to 52cm |
| Rear Seat Height | 32 to 51cm |
| Camber | 0°, 2°, 4°, 6°, 8° |
| Tubing Size | 3.49cm |
| Wheelchair Weight | From 4.81kg |
| User Weight | Maximum 124.7kg |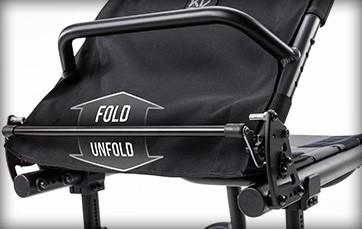 Ergonomic Backrest System.
The ergonomic locking backrest can be actuated with one hand and allows you to leave your side guards on when folding the backrest, making transfers easier than ever before. The simple, modern design is the only one to allow a recline position which opens your back angle up 6 degrees. This makes pressure relief, repositioning or simply getting dressed much easier.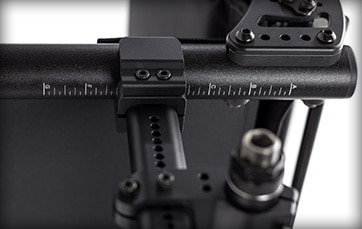 Tower And Side Frame Adjustment System.
The towers minimal oval profile is lightweight and built for durability that is customised to order to achieve the perfect height with a discreet adjustment system. Our ink transfer adjustment guide located on the bottom of the seat frame, helps make your centre of gravity adjustments easier.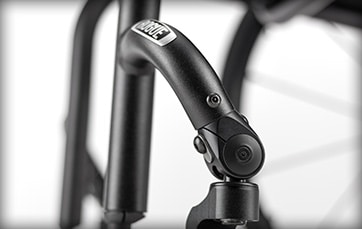 Adjustable Fender Side Guards.
Add a sleek look to your chair with the Carbon Fibre or Aluminium Adjustable Fender Side Guards. Easy to adjust for the perfect height. The Carbon Fibre keeps Rogue ultra-lightweight while the Aluminium design has a padded insert that adds a layer of comfort and protection. These options add style to your chair while protecting your clothing from the road.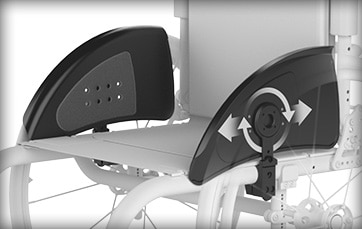 Ki Mobility Rogue – RP Tuning.
The modified rack and pinion gear is infinitely adjustable over any range and can be adjusted while the chair is occupied. It's as simple as tightening and loosening a screw. No small components to take apart and put back together. It's called RP Tuning. And only Rogue has it.
Find out more about the Ki Mobility Rogue Wheelchair
Use this form to get in touch and we'll be in contact soon.
Why choose Motus Medical?
As one of only a handful of Ki Mobility official distributors in the UK, we have full access to their range and their full support. Our specialists are highly trained in Ki Mobility technology, making them best able to complete an assessment for you. Plus we are able to offer maintenance and servicing on all Ki Mobility wheelchairs, helping to keep your chair as good as new.